Dining
Live the Cappuccino experience
Fine dining lays at the core of what we believe in at Hotel Cappuccino. Being able to offer you a once-in-a-lifetime gourmet experience is one of the many ways to pamper you. You will be able to enjoy all kinds of delicacies all day, every day: breakfast, lunch, dinner, drinks… you name it! The table will always be set, all you have to do is enjoy.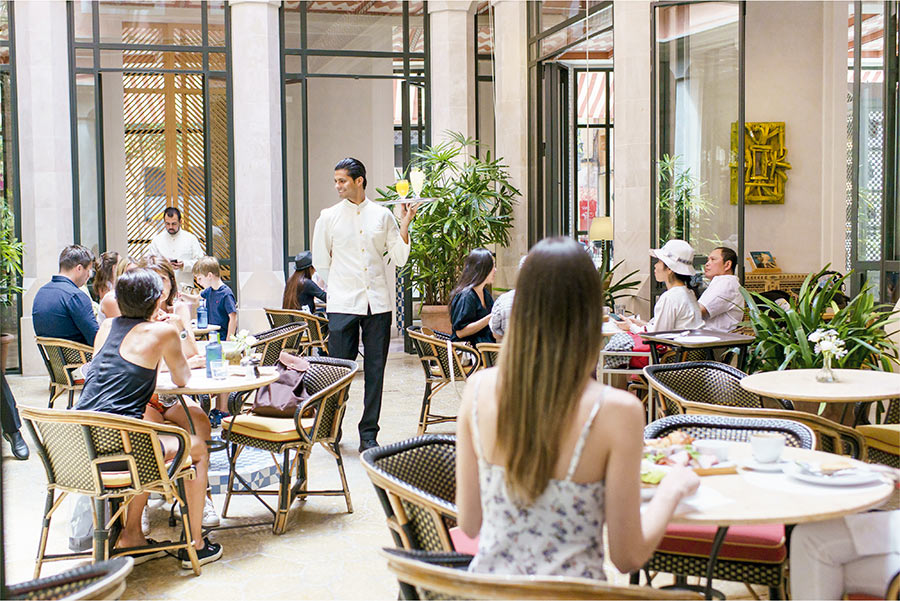 Our Patio
The heart and soul of our building is our light-flooded, typical Majorcan patio. A peaceful oasis that will quickly become your shelter on a busy day. The sound of the water from our mosaic-tiled fountain, a relaxed atmosphere, chill out music and superb service all day long are part of the experience when enjoying a cup of coffee, lunch or a candlelight dinner in this magical space. Our patio is a homage to our Majorcan roots, its distinctive architecture, its unique flair. Dive into the beauty of al fresco dining in a place like no other.
Breakfast
9:00 - 11:00
There's no better way to start the day than with a big, delicious breakfast. En Cappuccino Grand Café is the perfect place for it. The beautiful terrace at Plaza Cort is a meeting point for locals and tourists exploring the city from its very heart. This is one of our stunning scenarios for you to kick off your day. You can also have breakfast in our charming patio or ask our team to pamper you with room service.
Lunch & dinner
12:00 - 23:00
Magic happens at magical places. And our large terrace and alluring patio are most definitely two of the most staggering spots inside our hotel. Enjoy first-class sushi, your favorite pasta or a healthy salad either for lunch, or dinner at Cappuccino Grand Café. Would you like us to prepare a romantic evening for you? We'll set a candle-light dinner kind of table in our patio for you to surprise your significant other!
It's cocktail time!
Did you know that one of Cappuccino Grand Café's field of expertise is mixing your all-time favorite cocktails? With over 25 years of experience in bartending, Cappuccino Plaza Cort has become the place to be for group of friends, couples or families looking for the perfect combo: a fun atmosphere, a great location and first-class signature cocktails. Bloody Mary, Pisco Sour, Cosmopolitan, Porn Star Martini, Mai Tai… your choice!