We would be more than happy to organize any trips for you. Beach trips have a set timetable: hotel departure at 11 am and beach pickup at 5 pm. If you would like to take a picnic, our chefs will be happy to prepare everything you need for an unforgettable day out
Valldemossa – Deià – Sóller Route
A must-see for anyone visiting Mallorca. A trip through the heart of the Serra de Tramuntana ought to be top of the to-do list of anyone visiting the island. Valldemossa is a short trip of 20 kilometres from Palma. A stroll through its cobbled streets and a visit to the Cartoixa is the perfect morning before stopping for lunch at Capuccino Valldemossa. The road to Deià is a great opportunity to enjoy the magical sunset from the Sa Foradada viewpoint. After this visual feast, the route continues to the Vall de Sóller. The highlight of the day is the Plaça de la Constitució, where you can take in the emblematic church of Sant Bartomeu.
IN PALMA
---
You can visit Castell de Bellver and the Fundació Miró Mallorca in a half-day trip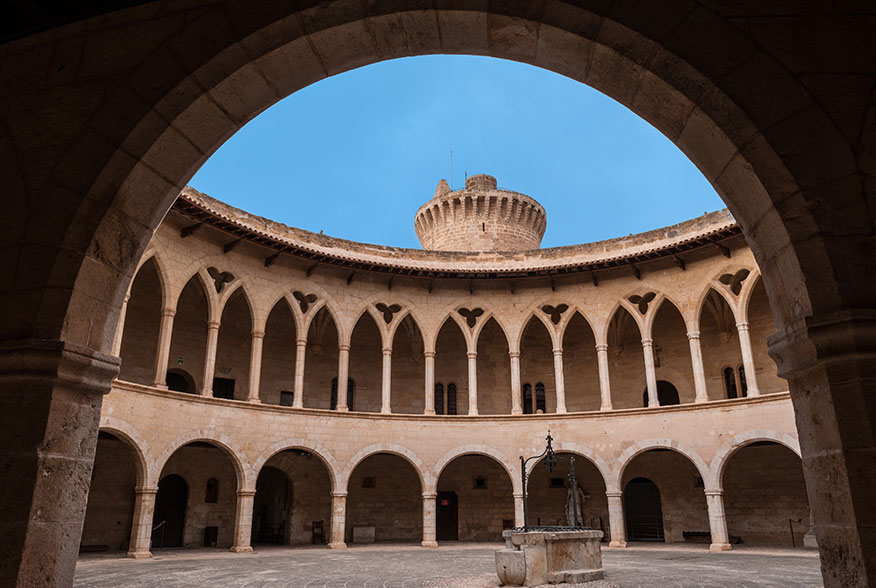 The Gothic Castell de Bellver or Bellver Castle is one of the most unique buildings on the island: with a circular ground floor surrounding a courtyard flanked by four towers standing at the four points of the compass. King Jaume II of Mallorca commissioned this magnificent building made of marès stone in 1300. Construction was completed eleven years later. The castle is located in a wooded area, 3 kilometres from the city centre. Over the years it has served as a royal residence, accommodation for local authorities and a prison. By 1700 it had become the island's prison where intellectuals such as Melchor Gaspar de Jovellanos were held incommunicado. During the Civil War 800 republican prisoners were incarcerated behind its forbidding walls. It now houses the History Museum and regularly hosts open-air concerts in the summer.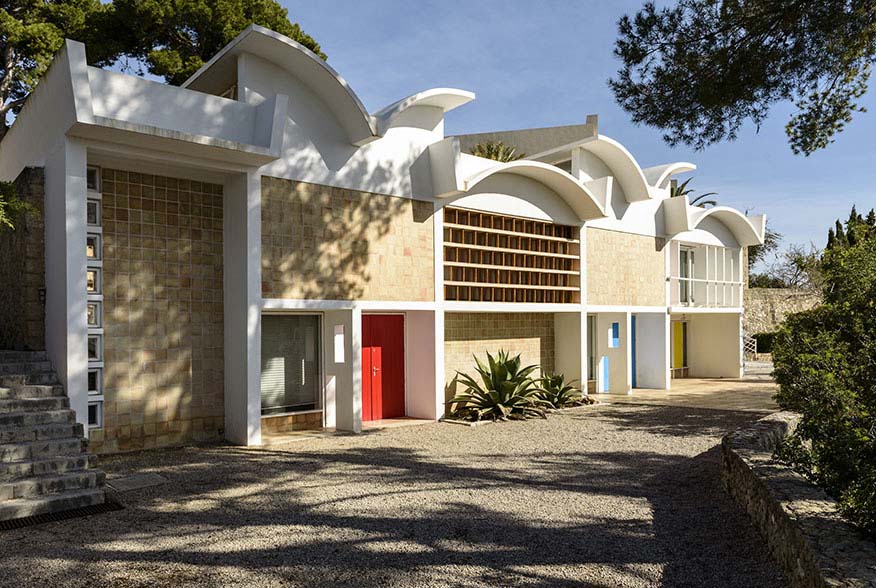 The Fundació Miró Mallorca is Joan Miró's cultural legacy of the three decades he lived and worked on the island. In the final stage of his artistic life, Miró broke with convention, as can be seen in his later works. The Fundació Pilar i Joan Miró de Mallorca is a cultural institution which revels in the coexistence between the diversity of disciplines in its collection. The foundation was conceived as a meeting place at the service of the public, dedicated to the spreading of knowledge about this important artist. It consists of three buildings: Taller Sert, Son Boter and Edifici Moneo. The artist's workshop from when he lived in Mallorca remains exactly as he left it. The Fundació Miró Mallorca Guide is a tribute to the essence of Joan Miró and Pilar Juncosa.
PALMA RUTE EXPERIENCE
---
A day in the city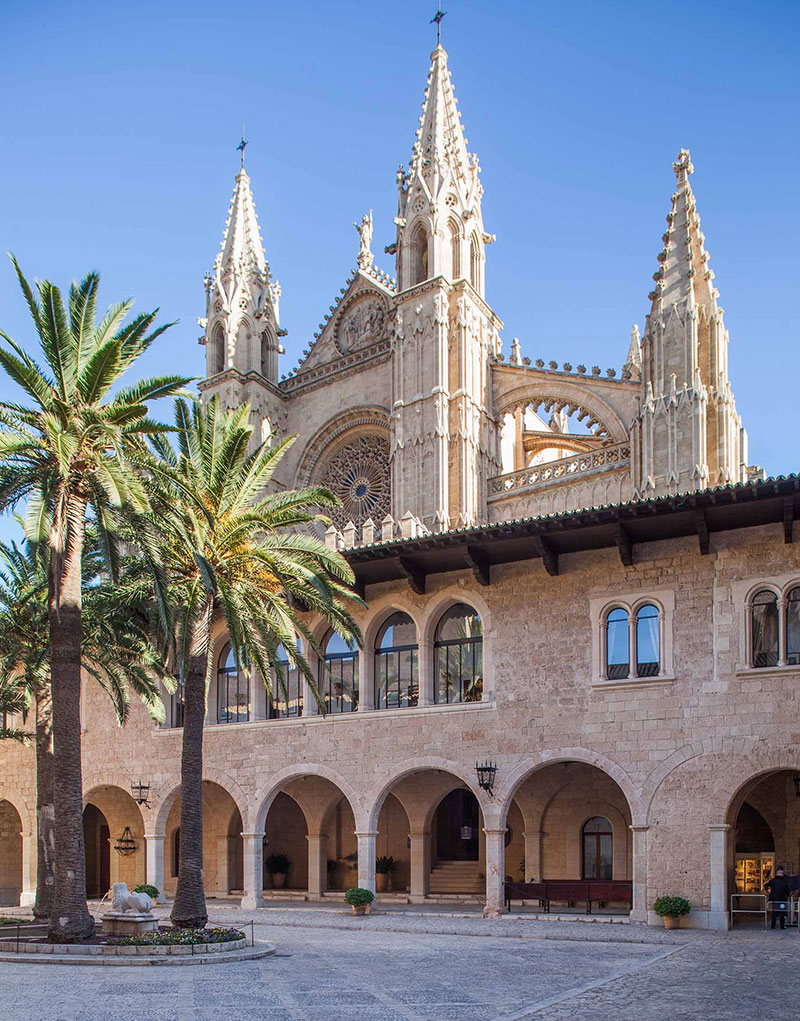 At one time or another, everyone has made use of a good map of the city they are visiting. Doubtless paper maps will one day disappear, but no one will forget tracing a route through the centre of Palma. We will show you one possibility, but there are as many routes round Palma as there are visitors. The Catedral de Mallorca is a must-see. It contains the chapel renovated by Miquel Barceló, who was born in Felanitx in the east of the island.
In front of La Seu you will find the Palau de la Almudaina, a former royal residence. Continuing down the stairs towards Ses Voltes offers a panoramic view of the bay of Palma. Visits to S'hort del Rei, La Llotja, the Passeig del Born and the Plaça Major can all be included in this walk through the historic centre of the city. Why not stop for a bite to eat in Mercat de l'Olivar and lunch in the garden of our palace Cappuccino San Miguel. The perfect way to round off the tour.
FOOD & WINE
---
Sa Roqueta: fresh fish, seafood and rice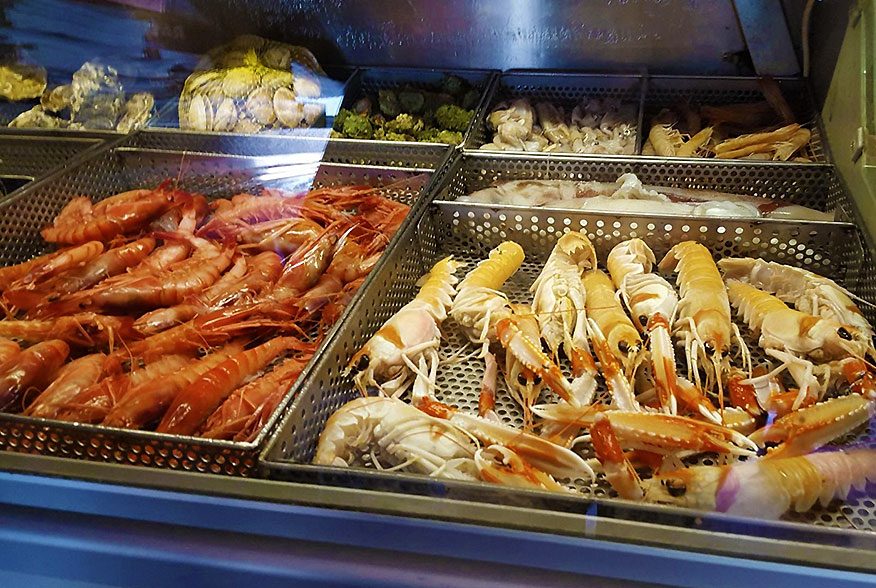 For over thirty years, the best rice dishes on the island have been served in a restaurant which smells like a fresh sea breeze. Sa Roqueta's menu consists of dishes from the family recipe book, employing typical Mallorcan produce such as monkfish, squid with onion, cuttlefish, fresh grilled fish and seafood paella. Sa Roqueta is located in the Portitxol area (Carrer Sirena, 1), near to Can Pere Antoni beach.
Can Torrat Grill Parrilla: grilled meats with potatoes and salad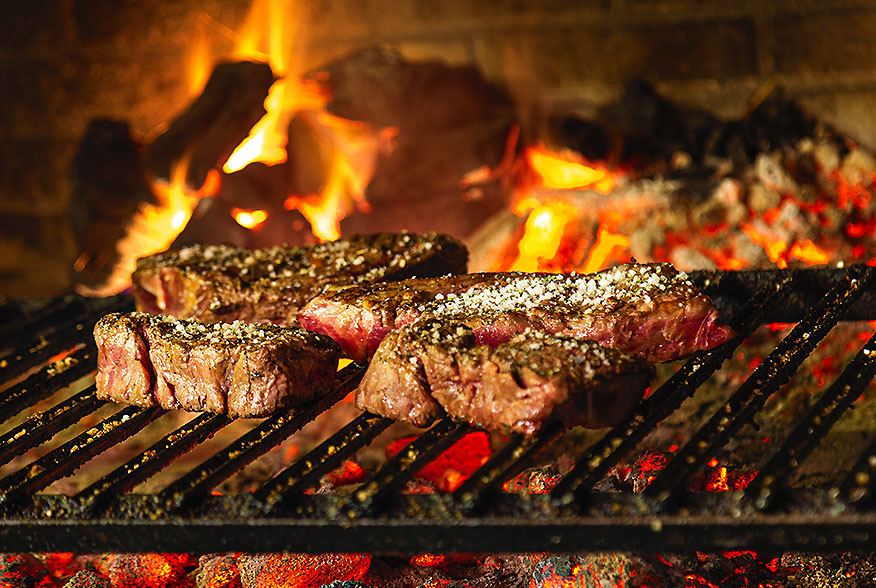 Established in 1972, since its inception Can Torrat has focused on serving simple cuisine using quality ingredients. It serves dishes for meat lovers, seasoned with a traditional Mallorcan picada, roasted to perfection over an oak and almond wood fire and served with delicious local potatoes with garlic and peppers. The aioli and tomato sauce are both classics in this legendary establishment. With an informal atmosphere, Can Torrat is located off junction 11 of the Palma motorway.
Ca'l Dimoni: Mallorcan cuisine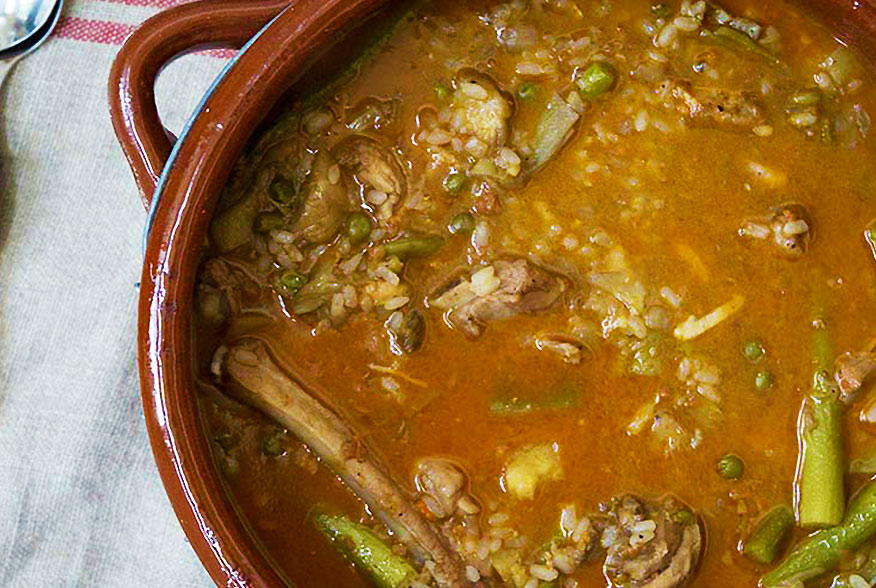 Established in 1957, it is an ideal place to dine with children. Ca'l Dimoni specializes in torrades (grilled meat) as well as other traditional Mallorcan cuisine, such as its famous arròs brut. It is located in Algaida, 25 kilometres from Palma. It can be accessed by the MA-15 (Carretera Vella de Manacor, km. 21 - junction 21).
Wellies Mallorca: Mediterranean cuisine on the best terrace, with the best atmosphere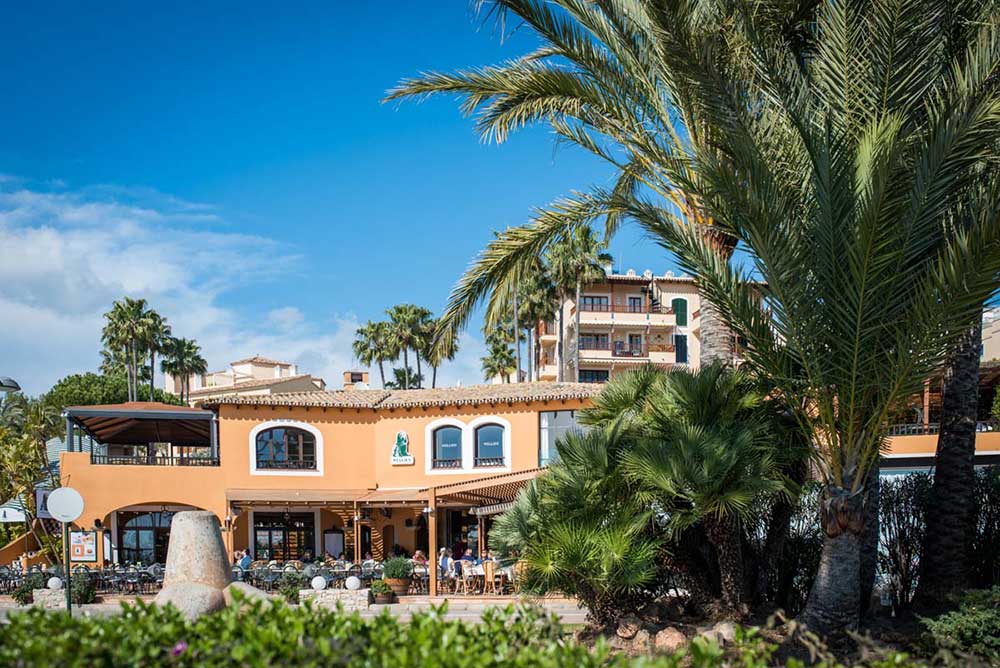 Located in Puerto Portals overlooking the water sports pier, Wellies Mallorca is the perfect spot for a relaxed lunch or a quiet dinner in this exclusive enclave. Mediterranean cuisine is the foundation of a menu with European gastronomic influences accompanied by a varied selection of wines. The cocktails and a collection of the best champagne are proof that Wellies is worth a try on any visit to Mallorca. (Wellies Puerto Portals, Local 22. Puerto Portals, Portals Nous. Calvià +34 871 90 23 06).
Tahini: Japanese cuisine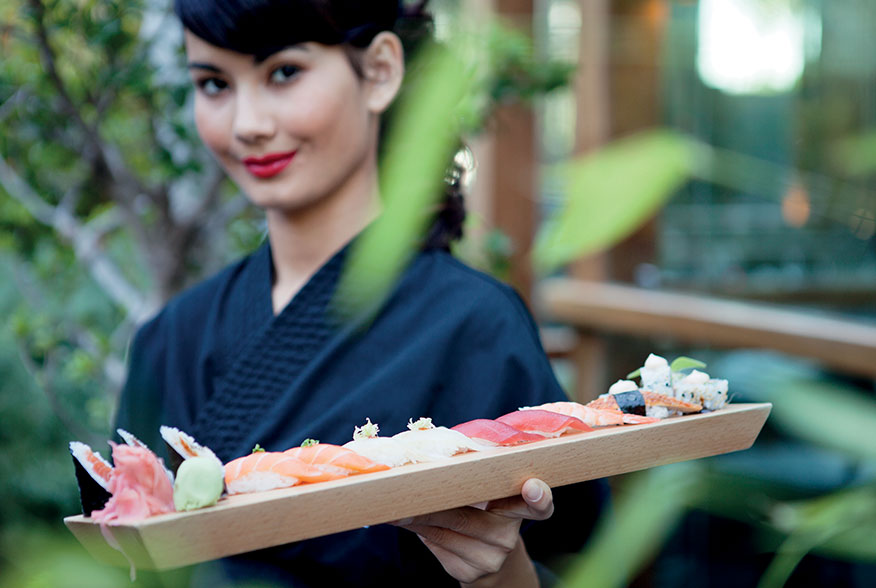 Near to the Puerto Portals promenade and away from the hustle and bustle, Tahini is an oasis of calm which will delight lovers of Japanese cuisine. The interior consists of an open kitchen and restaurant space, complemented with spectacular contemporary works of art. Outside you'll find a private Japanese garden with intimate areas in which to enjoy some peace and quiet. A takeaway service is also available. (Tahini, Puerto Portals, 2. +34 971 676 025)
Cappuccino de Puerto Portals: drinks, wine and beautiful people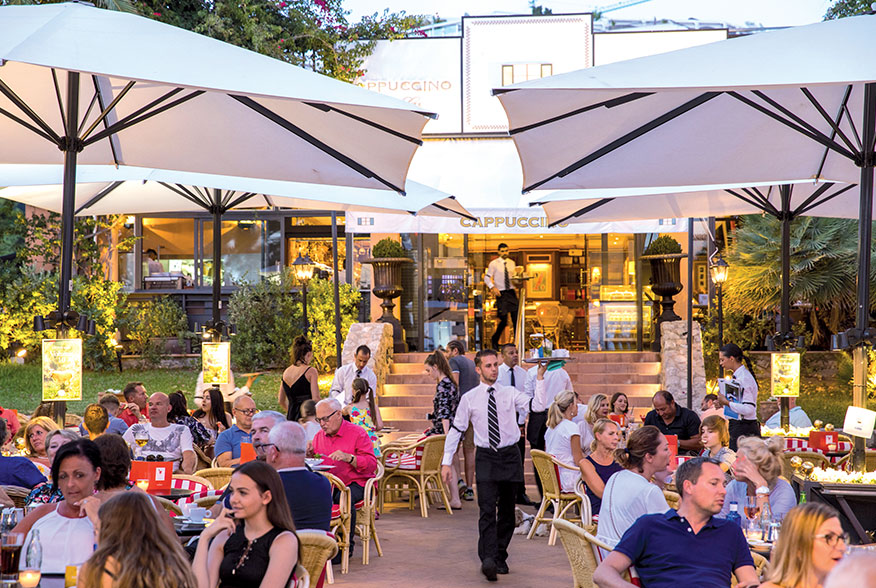 Portals is in keeping with the Cappuccino Group philosophy. Located in a prime position in the exclusive port, Capuccino Puerto Portals offers long opening hours, from breakfast to late night drinks. (Puerto Portals, 1. Calvià)
BEACHES
---
Cala Deià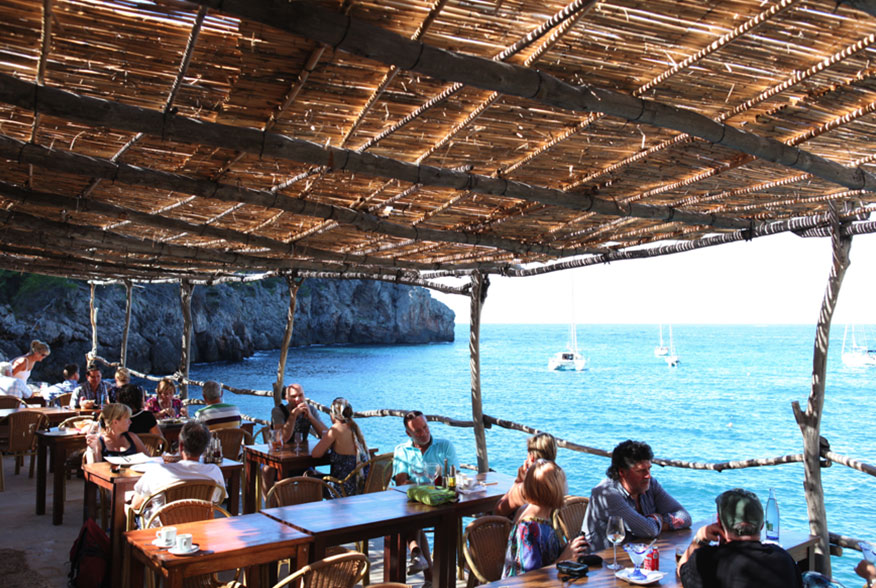 Situated in one of Mallorca's many hidden corners: it's an idyllic rocky cove 3 kilometres from Deià, a town in the Serra de Tramuntana, in the northeast of the island. Crystalline water and a casual atmosphere with a 70s vibe. Ca's Patró March is an extremely popular restaurant in Cala Deià, making it advisable to reserve a table. Although Deià is only 34 kilometres from Palma, the drive takes around one hour.
Formentor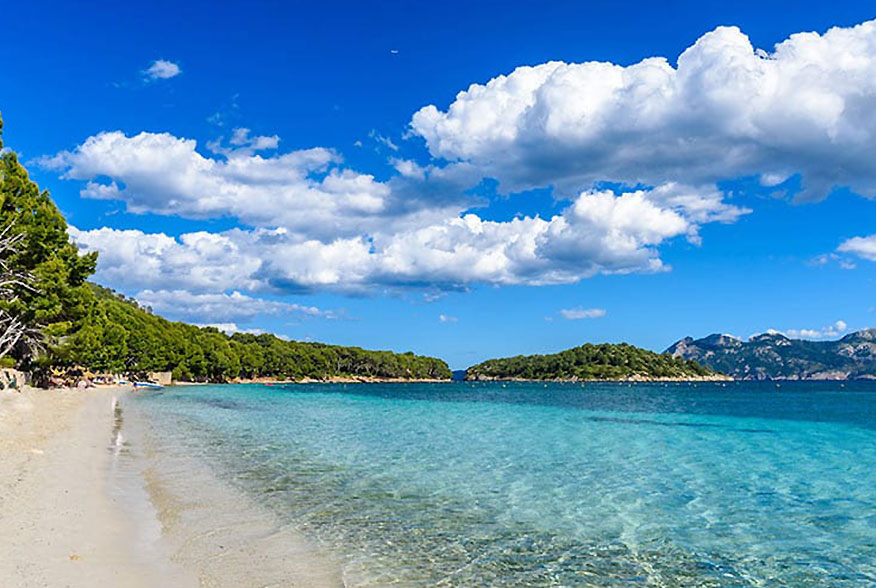 Whoever visits Formentor is destined to return at one time or another. Nestled in a natural park, the sea and the mountains meet in an embrace of intense green and turquoise blue. The fine sandy beach is bound to make an impression. 74 kilometres from the capital of Mallorca, the journey takes an hour and 15 minutes by car on a road with little traffic.
Es Trenc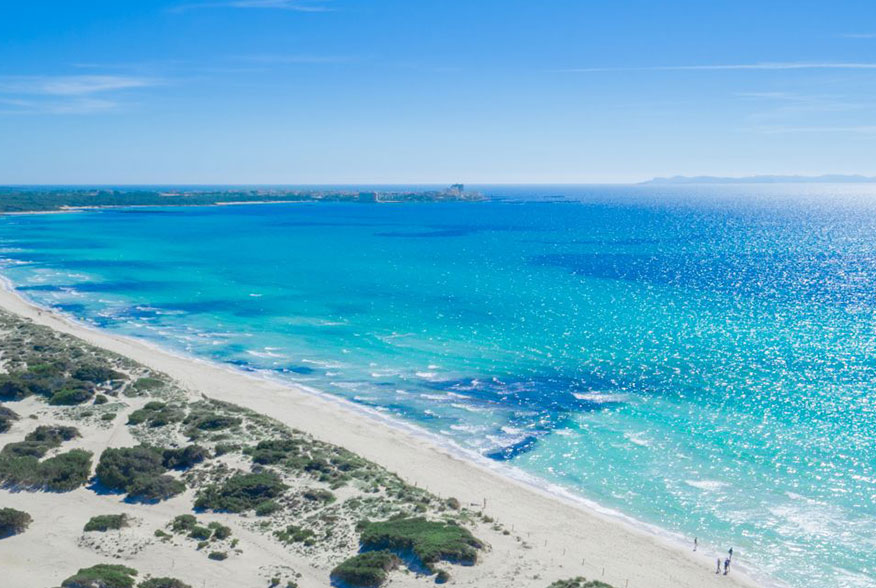 Salt flats, pines, an immense untouched sandbank and crystalline water create a coastal fit to rival any you'll find in the Caribbean. Es Trenc has two beaches: Ses Covetes and Ses Salines. These shallow beaches are popular with families with young children, groups of friends and nudists. Located in the municipality of Campos, the journey time from Palma is around 50 minutes.
Illetes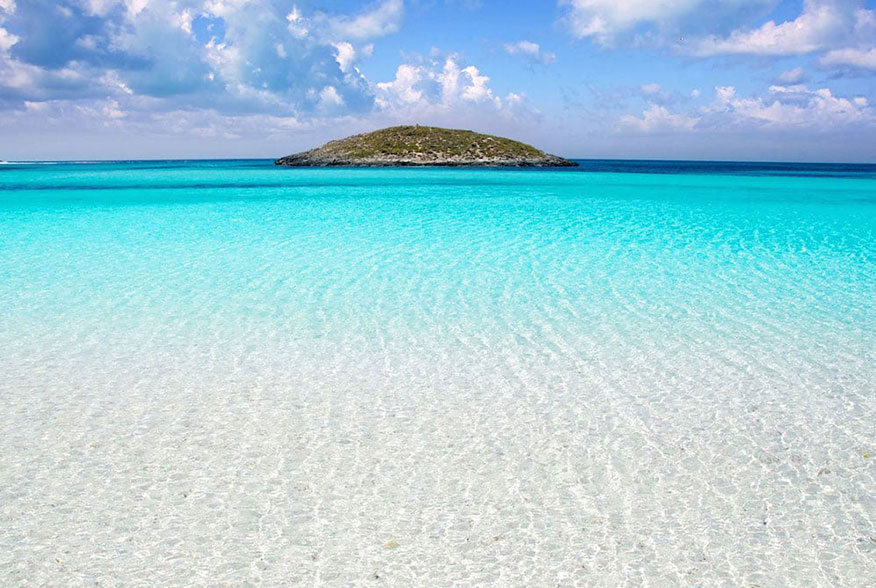 Illetes Beach, Cala Oli and Cala Comtessa are all part of Illetes. Surrounded by pine forests and overlooking the islets, its transparent waters turn to deep turquoise when seen from the shore. With fine white sand, Illetes was established as a resort in the middle of the last century. 9 kilometres from Palma, in the southwest of Mallorca, it can be accessed by vehicle or by bus number 4. Illetes belongs to the municipality of Calvià.
SPORTS & OUTDOOR PURSUITS
---
Hiking in the Tramuntana mountains
Ruta del Camí de S´Arxiduc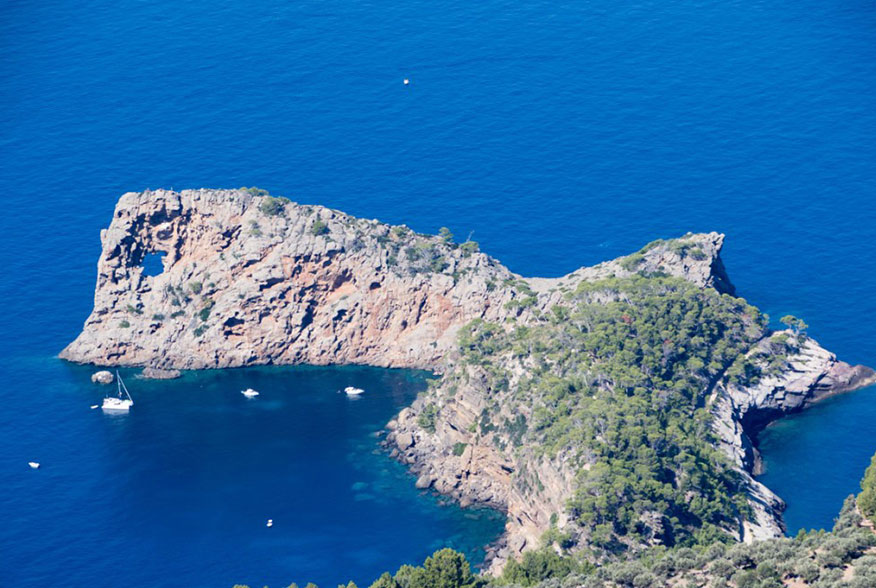 Archduke Lluís Salvador of Austria commissioned the construction of the road which bears his name. For those who like to visit every corner of Mallorca this is one of the most beautiful hikes. The route runs between two points, Palma and Deià. The starting point is Valldemossa, with a 7-kilometre-long circular route. It is possible to carry on to Deià or return to Valldemossa. The trek lasts approximately 3 hours.
GOLF
---
Mallorca is a golfer's paradise. Arabella Golf Mallorca is the largest golf resort in Spain with 4 courses and a total of 63 holes.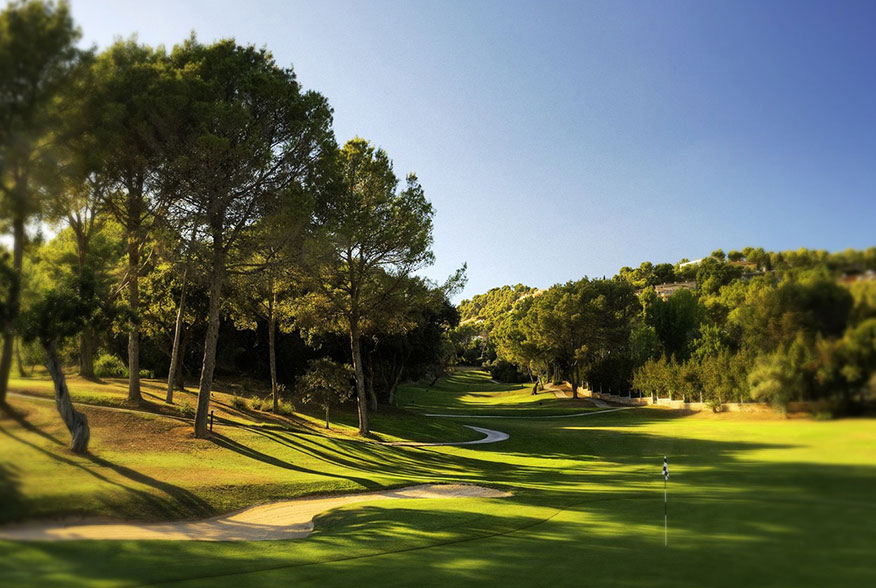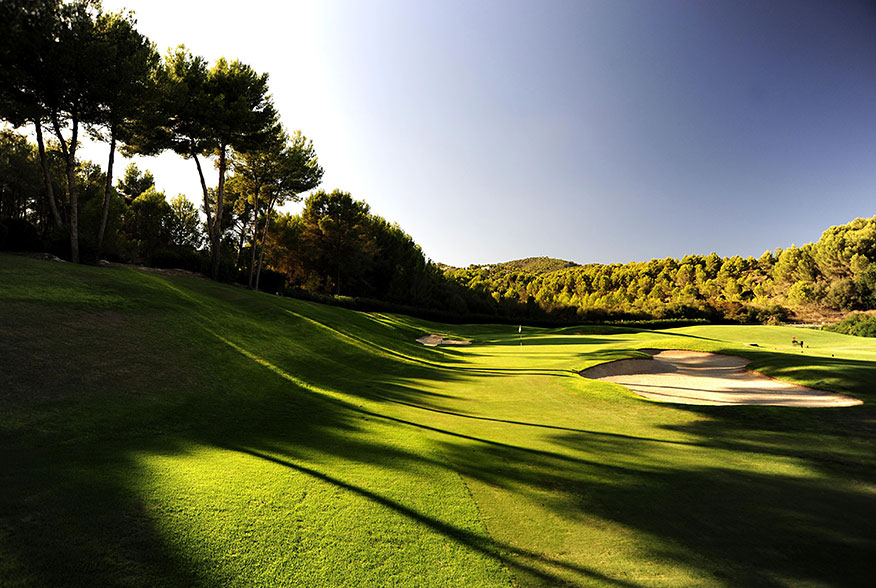 Golf Son Vida
Mallorca's first golf course was inaugurated in 1964. One of the most beautiful on the island thanks to its spectacular views over the bay of Palma.
Golf Son Muntaner
Between Na Burguesa and the bay of Palma, it was opened by the architect Kurt Rossknecht in 2000. It offers a wide variety of holes which will challenge golfers of all handicaps.
Golf de Son Quint
The island's newest course was designed by Ramón Espinosa and Kurt Rossknecht in 2007. Its open layout suits an aggressive approach which can be enjoyed by experts and amateurs alike.
Golf de Son Quint Pitch+Putt
The perfect course for beginners due to the design of the course, the absence of handicaps and a more relaxed dress code.
The courses are all connected as part of the Son Vida urbanization, offering multiple options. The journey from Palma takes less than 20 minutes.
SAILING
---
Vesta Charter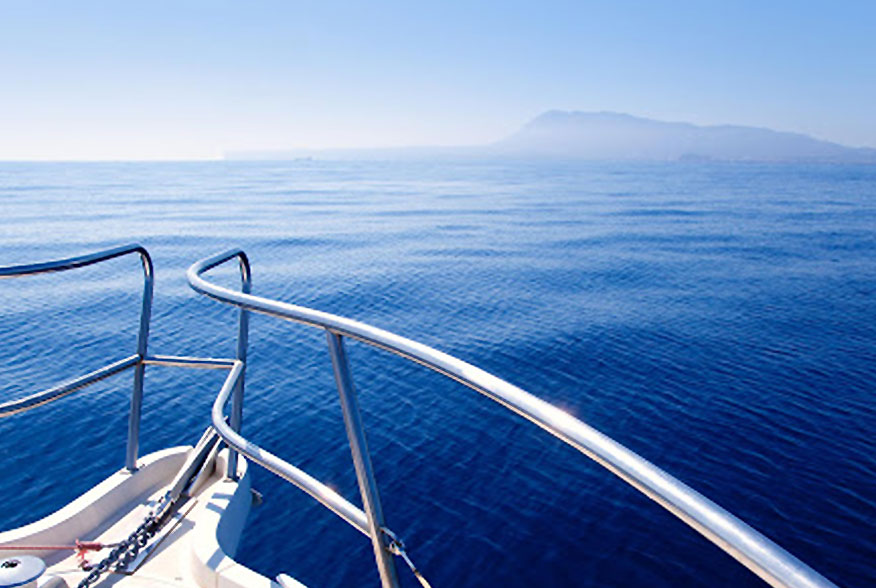 A company which specializes in luxury yacht rental. Tailor-made trips to suit the client's taste. All you need do is concentrate on enjoying your vacation and say goodbye to all your worries.
Everything can be organized on request, including the hotel transfer service. We also offer a catering service provided by chefs from the Cappuccino Group.
SHOPPING IN PALMA
---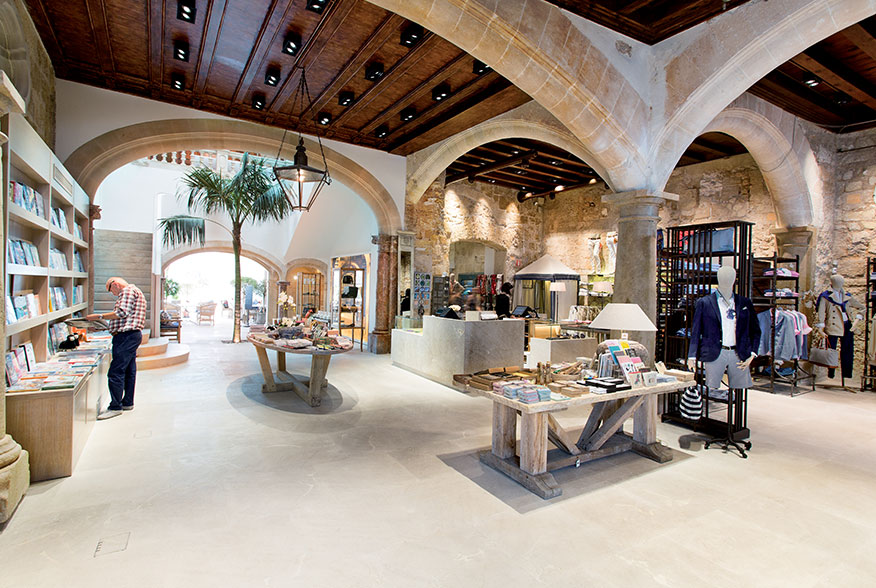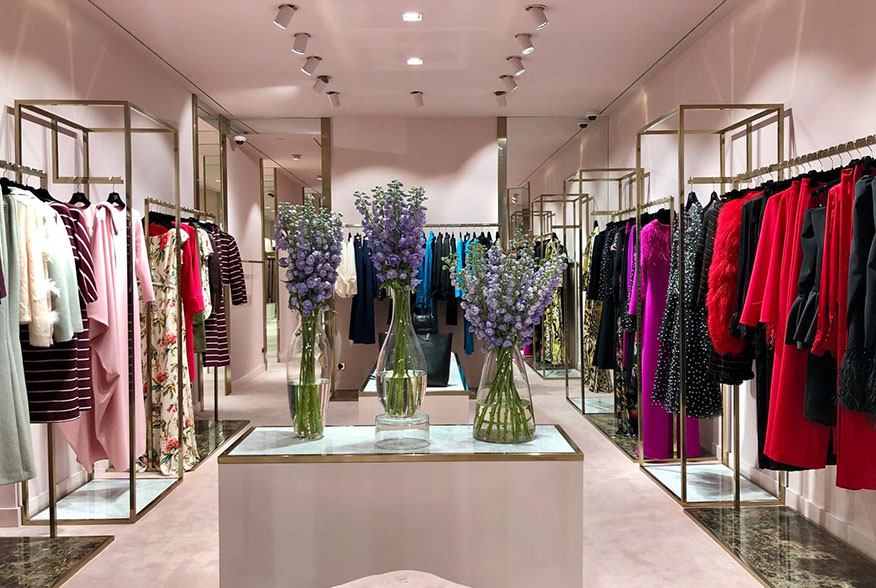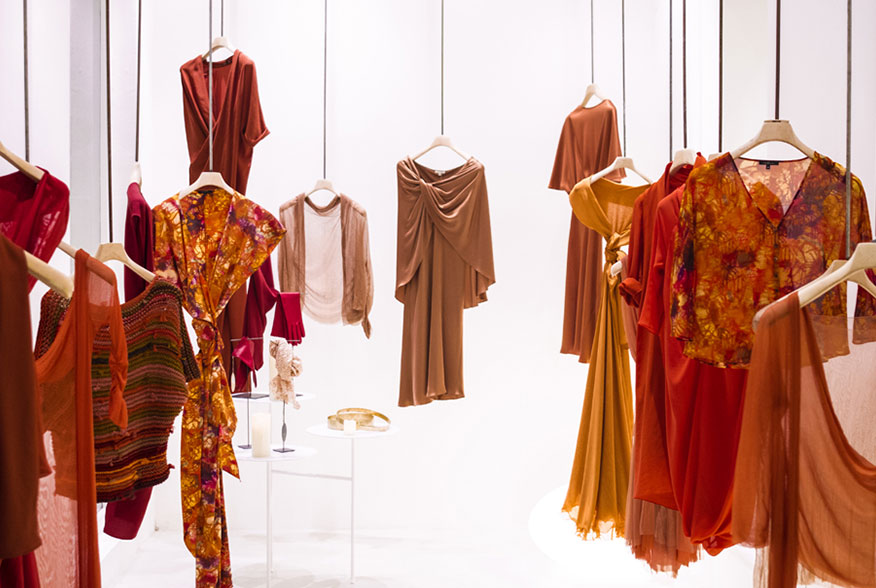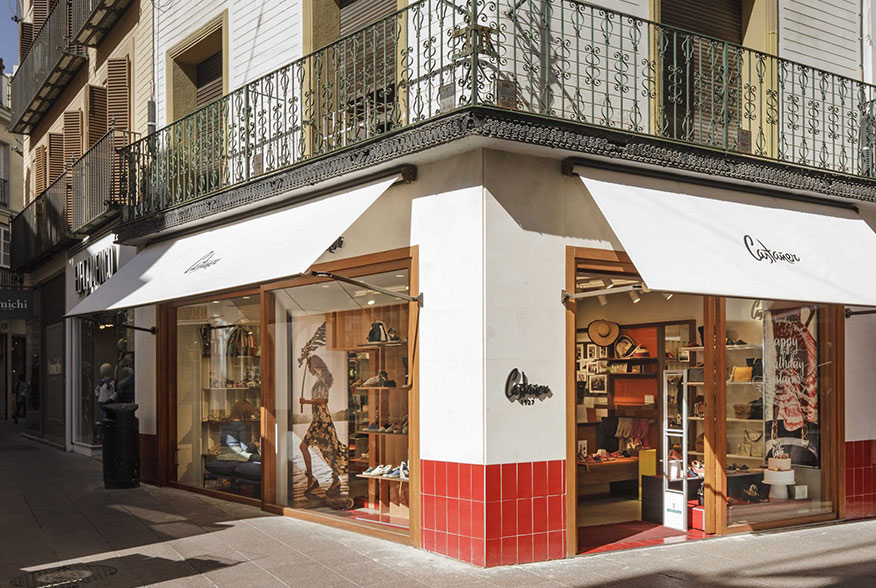 Rialto living
A concept store which combines design, interior design, art, fashion... and coffee. With a relaxed, elegant style, its hosts a carefully curated selection of books and exhibitions by established and emerging artists, from both home and abroad. The building originally opened as a cinema in 1926, the historic Sala Rialto. Carrer de Sant Feliu, 3.
Corner
In the early 90s the Tous family created this luxury multi-brand store which soon became famous in the luxury sector in Spain and throughout the Mediterranean. Corner offers a personalized selection by the leading international firms in the sector. Passeig del Born, 28.
Brunello Cucinelli
Harmony and balance characterize its collections. Light fabrics and gorgeous designs define its style.
Location: Avinguda de Jaume III, 4.
Jorge Vázquez
Vázquez is one of Spain's leading avant-garde designers. Having worked for Inditex, Antonio Pernas and Ángel Schlesser, Vázquez became part of the Cibeles Catwalk in 2002. He has collaborated with Loewe, Síntesis and was also responsible for supervising the women's brands at El Corte Inglés.
In 2016, after ten years away from Cibeles, he returned to win the prize for the best collection. Vázquez is currently Pertegaz's creative director, while owning his own stores, one of which is on Carrer de Sant Nicolau, 20, in the centre of Palma.
Cortana
It would be impossible to sum up in a few words the Cortana universe created by Rosa Esteva, a native Mallorcan. Cortana works with natural, pure, sustainable fabrics. Every piece in the collection is painstakingly handmade, with great attention to detail. A must for those who value quality. Cortana is in Carrer de Can Asprer, 1.
Isabel Guarch
Guarch was born in Mallorca when the family jewellery store had been open for 9 years. She studied Gemmology and Design in Paris before her mother entrusted her with taking control of the brand. Since then, Guarch has dedicated her life to her passion, design. Her clients include Queen Sofía of Spain. Mediterranean collections and haute couture items make up an extensive catalogue of exclusive pieces. Plaça del Mercat, 16.
Castañer
Since it was founded in 1927, Castañer has remained the Spanish espadrille firm par excellence. Castañer succeeded in turning everyday footwear into one of the highest quality products in the footwear industry. Design and fashion are the foundations of its success. In the 70s, she created the wedge espadrille together with Yves Saint Laurent. Castañer represents consistency, natural materials, tradition and a quintessential Mediterranean essence. Carrer de la Unió, 8.
ARTS & CRAFTS
---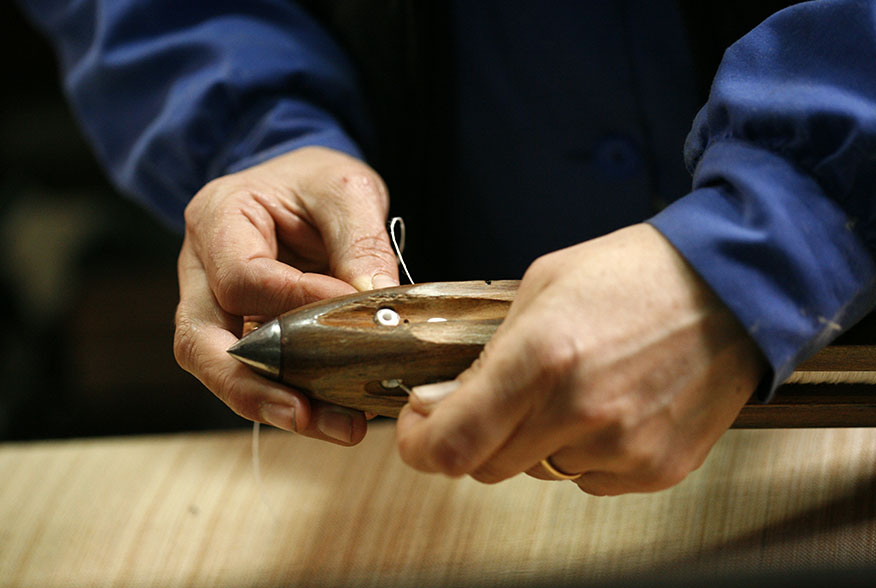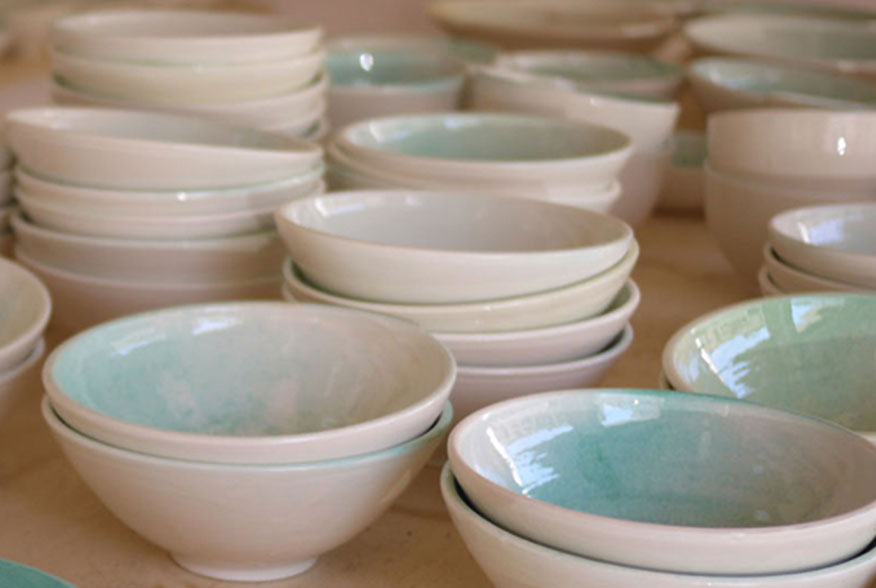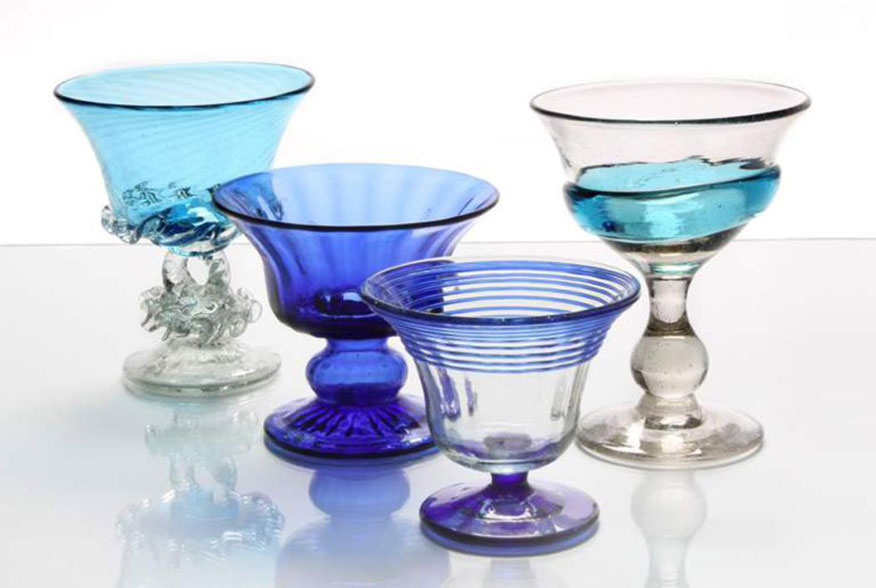 Artesania Tèxtil Bujosa, en Santa María del Camí
Founded in 1949, three generations have dedicated themselves to the artisan clothing company which manufactures the legendary llengües fabrics. In the village of Santa Maria del Camí, twenty minutes from Palma by car, Bujosa combines contemporary design with traditional artisan processes. The constant introduction of new colours means different fabrics are constantly being created, with no two pieces being alike. Using fabrics such as linen, silk, smooth and coarse cotton, Bujosa can make the wishes of its clients come true. Carrer Bernat de Santa Eugènia, 53, Santa Maria del Camí.
Pòrtol Pottery
Pòrtol, a town just 20 kilometres from the capital, in the municipality of Marratxí, is famous for its pottery. Siurell figurines, numerous types of earthenware pots, crockery and plates sculpted from red earth and white clay are turned into exquisite ceramic pieces. We recommend you start your visit at the Museu del Fang (ceramic museum).
Mimbrería Vidal, en Palma
Since 1955 this company has specialized in top quality wicker and reed ware, selling baskets, hats, mats, made-to-measure curtains and all manner of cordage. It is run by three generations of artisans who also repair wicker chairs. Carrer de la Corderia, 13.
Alpargatería La Concepción, en Palma
Reeds and jute, highly resistant vegetable fibres, are the materials used to make handmade footwear by the best artisans in Mallorca, Ibiza, Menorca and Formentera. You can find them in Carrer de la Concepció, 17.
Gordiola, Palma
Still going strong after three centuries, the glassmakers and artisans continue to fashion by hand every piece which comes out of Gordiola. Every item is the result of traditional glass blowing techniques. Pieces made by this manufacturer have been shipped all over the word for over fifty years. The colourful originality of each piece makes them unique. Carrer de la Victòria, 2.